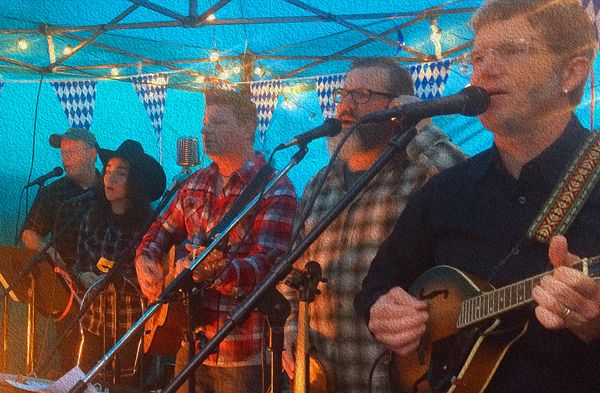 Oktoberfest at Double Bluff Brewing Company
We had a great evening at Double Bluff Brewing Company in Langley, on October 5th, for their annual Oktoberfest event. This is the 2nd year we've been a star attraction for their Oktoberfest!

Somewhat expectedly at this point, we had a lot of rain. I guess if you live in the Pacific Northwest and you name your band "Wind & Rain" you have to accept that the name is going to be a talisman for bad weather!

So, we set up in the rain under a pop up, with a cozy propane fire pit right in front of us. By the time we started, the rain stopped. There was a great turnout and we really enjoyed the energy of the crowd.

We broke out our cover of Swept Away by Avett Brothers, for the first time, publicly. Also, we threw caution to the wind and closed the night with a very raw version of a new song written by Evan Callahan, called "Frog Choker." It was written about a band. That plays a lot in the rain. In heavy rains. Frog chokers.

Introducing Nicole Parnell
We were pleased to introduce a new female singer, Nicole Parnell. She sang lead on Jolene and Tennessee Whiskey, as well as backup on a few original Wind & Rain songs. Her voice is "country sweet," and a great blend with the boys in the band. Looking forward to seeing her integrated more wtih the band in coming months.

Upcoming date at the NEW Blooms WineryThe band is excited about our upcoming November 16th, 7 PM to 9 PM gig at Blooms Winery, in Freeland. Virginia and Ken Bloom have done an awesome job of creating a new venue for food, wine, music and dancing. 

Stay tuned for more Wind & Rain updates!